Türk Müziği Akademik Çevresi'nin (TUMAC) 2022-2023 akademik yılı Güz Dönemi Bilim Sanat Etkinlikleri (BSE) programı, Bennington College Music Faculty'de etnomüzikoloji alanında görev yapan Dr. Joseph Alpar'ın "Music and Liturgy in Istanbul's Jewish Community" başlıklı İngilizce sunumuyla sona eriyor. 28 Ocak 2023 Cumartesi günü saat 21:00'da (UTC+3) gerçekleşecek etkinlik, Orient-Institut Istanbul'da araştırma görevlisi entomüzikolog Dr. Will Sumits'in moderatörlüğünde TUMAC Youtube kanalından canlı yayınlanacak.

SUNUM HAKKINDA
In this lecture, ethnomusicologist Dr. Joseph Alpar will explore ongoing transformations in the sacred musical repertoires, and the religious identities that they represent, of Istanbul's contemporary Jewish community. Synagogue cantors (hazzanim) and laypeople alike negotiate their religious identities as Turkish Jews in the musical choices they make. While many try to maintain the community's local music tradition, rooted in makam—the melodic dimension of Turkish music—others attempt to broaden their repertoire with musics from Israel, the United States, and Ḥabad Hasidic Judaism. Hazzanim and community members articulate ambivalent and changing attitudes about their Jewish identities, memory, and the value of local tradition in their diverse approaches to making sacred music in Istanbul today.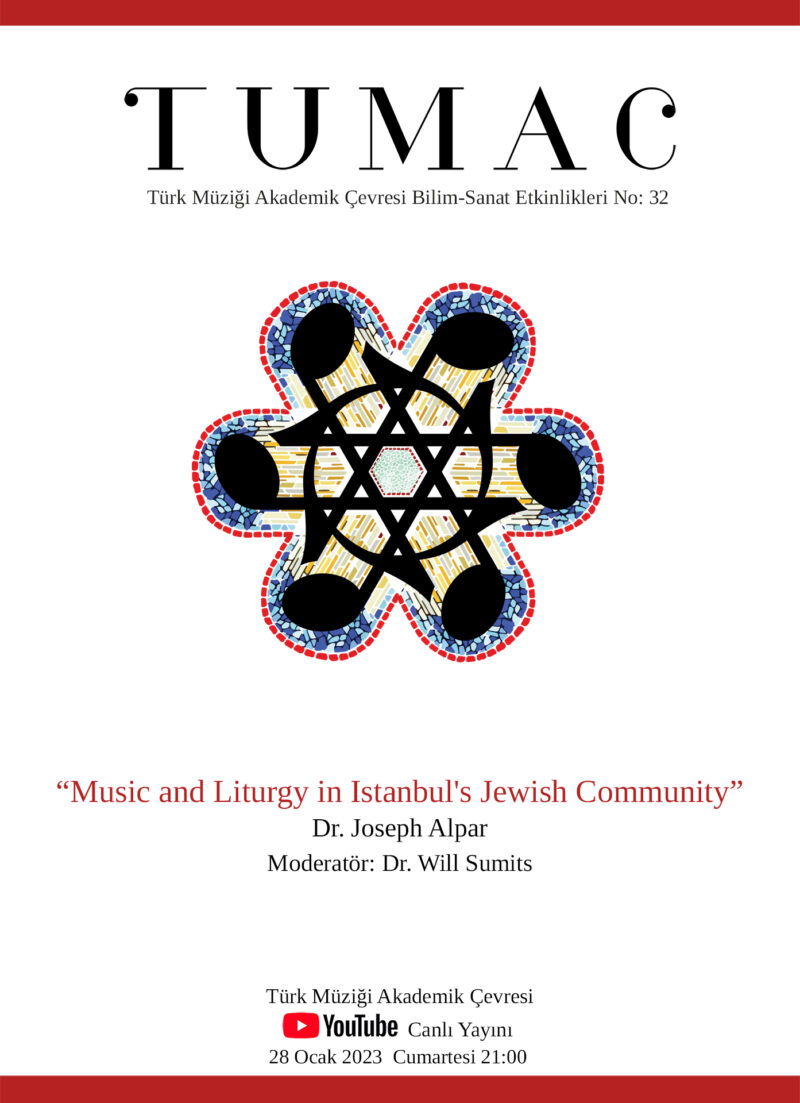 Dr. Joseph Alpar

Dr. Joseph Alpar is an ethnomusicologist, performer, and educator whose research centers on musical and religious practices in Turkey and former Ottoman territories. He is on the music faculty at Bennington College. Alpar earned his Ph.D. in ethnomusicology from The Graduate Center, City University of New York in June 2020, having completed a dissertation titled, "Music and Jewish Practice in Contemporary Istanbul: Preserving Heritage, Bending Tradition." His research has been supported by fellowships from The American Research Institute in Turkey (ARIT) and The Graduate Center, CUNY. Alpar is an accomplished vocalist and multi-instrumentalist of Turkish, Greek, and Sephardic music, playing santouri, piano, and darbuka. He is the director of David's Harp, an acclaimed Philadelphia-based music ensemble specializing in Sephardic Jewish music. He has taught previously in the music departments of Swarthmore College, Temple University, and CUNY, Hunter College.